Fine and Country & The Guild of Professional Estate Agents Annual Global Conference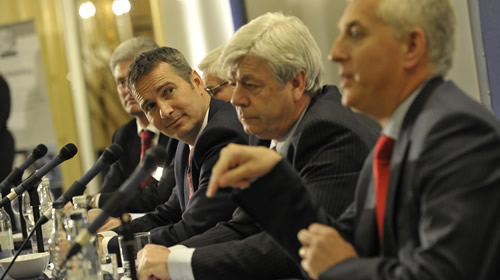 Client: Fine and Country supported by the GPEA are one of the world's leading high end property businesses with over 300 offices worldwide.
Client Objective: SJP we bought in to engage Fine & Country's global senior audience management at their annual international conference in London. This full day conference with Gala Dinner is the flagship event for both the GPEA and Fine & Country.
The Delegates were invited for a networking breakfast within the exhibitor area, allowing interaction with various stands, shareholders and their fellow professionals, before making their way to individual seminar rooms for targeted presentations and question panels throughout the day. To further enhance attendee and exhibitor relations, the exhibitor area was used as breakout and catering space, helping to forge connections in an informal but focused environment.
SJP Deliver the best international conference on time and on budget. The team merged perfectly with both GPEA and Fine & Country to create the perfect team to deliver this high profile event.
Client Feedback: "We hadn't involved an external professional events company for any of our previous conferences and events – but now wouldn't want to hold another one without such involvement! SJP Business Media were a delight to work with – efficient, professional and nothing was too much trouble."
Malcolm Lindley – Director
Fine & Country