Volga Dnepr Customer Event - FIA Cargo Village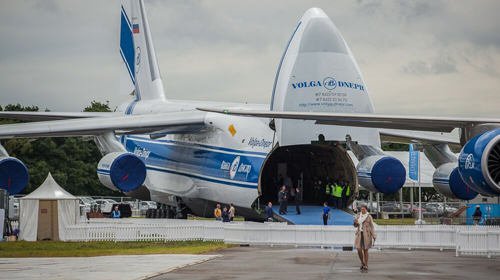 Client:  Volga Dnepr the world leader in the unique, oversize and heavy cargo market, successfully representing the Russian airfreight industry in the international market since 1990; multinational team of 3,500 employees in nine countries.
Client objective: SJP were tasked to Create a Cargo Village for Volga-Dnepr Group, CargoLogicAir and its partners (Boeing, GE, BLOODHOUND SSC and Marshall) at Farnborough International Air Show  - a brand new innovation at this world-class event. It was to showcase the interiors of the B747-8F and AN-124-100 aircraft along with providing purpose built meeting room facilities on board the aircraft and a separate media chalet. The event hosed the worlds press along with senior key figures from the Aviation world and witnessed a major contract signing event between Volga-Dnepr Group, Boeing and GE. The contract was worth Billions of dollars which was the focal point of the event. Everything at this event had to run perfectly with a very tight timeline to build and create the environment to a high standard overcoming many logistical challenges in the process.
Client Feedback:  "SJP Business Media helped us to make a big impression at Farnborough in 2016, creating the ideal platform for us to engage our key customers, partners and the aviation press."
- Natalia Ivanes - Regional Marketing Manager, Volga Dnepr Group